Nema 14 (35mm) closed-loop stepper motors
Product Detail
Product Tags
| | |
| --- | --- |
| Motor Type |  Bipolar stepper |
| Step Angle |  1.8° |
| Voltage (V) |  1.8 / 2.9 |
| Current (A) |  1.5 |
| Resistance (Ohms) |  1.23 / 1.9 |
| Inductance (mH) |  1.4 / 3.2 |
| Lead Wires |  4 |
| Holding Torque (N.m) |  0.14 / 0.2 |
| Motor Length (mm) |  34 / 47 |
| Encoder |  1000CPR |
| Ambient Temperature |  -20℃ ~ +50℃ |
| Temperature Rise |  80K Max. |
| Dielectric Strength |  1mA Max. @ 500V, 1KHz, 1Sec. |
| Insulation Resistance |  100MΩ Min. @500Vdc |
Motor Size

Voltage

/Phase

(V)

Current

/Phase

(A)

Resistance

/Phase

(Ω)

Inductance

/Phase

(mH)

Number of

Lead Wires

Rotor Inertia

(g.cm2)

Holding Torque

(N.m)

Motor Length L

(mm)

35

1.8

1.5

1.23

1.4

4

20

0.14

34

35

2.9

1.5

1.9

3.2

4

30

0.2

47
>> General technical parameters
| | | | |
| --- | --- | --- | --- |
| Radial clearance | 0.02mm Max (450g load) | Insulation resistance | 100MΩ @500VDC |
| Axial clearance | 0.08mm Max (450g load) | Dielectric strength | 500VAC, 1mA, 1s@1KHZ |
| Max radial load | 25N (20mm from flange surface) | Insulation class | Class B (80K) |
| Max axial load | 10N | Ambient temperature | -20℃ ~ +50℃ |
>> 35IHS2XX-1.5-4A motor outline drawing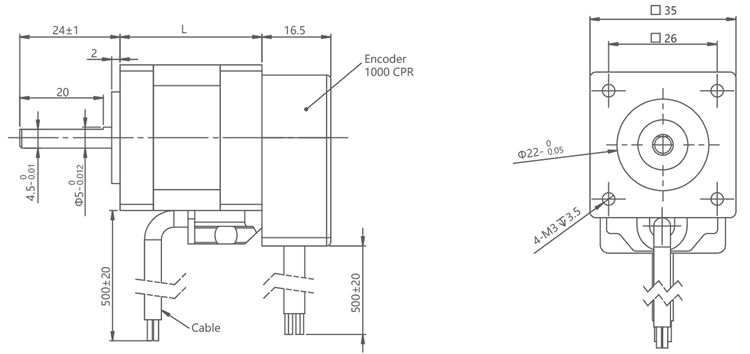 Pin configuration (Differential)

Pin

Description

Color

1

GND

Black

2

Vcc

Red

3

Ch A+

Green

4

Ch A-

Brown

5

Ch B-

Gray

6

Ch B+

White
Pin configuration (Differential)

Pin

Description

Color

1

GND

Black

2

Vcc

Red

3

Ch A+

Green

4

Ch A-

Brown

5

Ch B-

Gray

6

Ch B+

White

7

Ch Z+

Yellow

8

Ch Z-

Orange
Thinker Motion is an outstanding and innovative linear motion solution provider. The company has passed ISO9001 certification, its products have passed RoHS and CE certification, and has 22 product patents.
We always put the needs of our customers as priority and are committed to providing our customers with high-quality products and services. Currently we serve about 600 customers.
We have 8 CNC lathes, 1 CNC milling machine, 1 wire cutting machine, and some other machining devices. We are capable of machining most of the non-standard parts by ourselves in house to shorten the lead time of customized products, and to provide our customers with a good purchasing experience. Usually, the lead time of our lead screw motor products is within 1 week, and the lead time of ball screw is about 10 days.
---
---
Write your message here and send it to us